Trump has been paying Ivanka as a "consultant" and writing it off his taxes
President Donald Trump's taxes are being reported by the New York Times revealing ways in which his daughter Ivanka has been getting millions from her father and avoiding paying the proper amount of tax on it.
The report detailed that Trump has tried to write-off things like family vacations while claiming to be a billionaire with nearly half a billion dollars in debt.
Gift taxes are when a living person gives over $15,000 to a person, and Trump has given Ivanka much more than that. But to get around it, he calls his money to her "contractor fees," which she declares as "income." She's also had nearly $100,000 in fees for her hair and makeup paid by the president for years.
"Mr. Trump has written off as business expenses costs — including fuel and meals — associated with his aircraft, used to shuttle him among his various homes and properties," said the Times. "Likewise, the cost of haircuts, including the more than $70,000 paid to style his hair during 'The Apprentice.' Together, nine Trump entities have written off at least $95,464 paid to a favorite hair and makeup artist of Ivanka Trump."
In her public filings, Ivanka Trump said she was paid through TTT Consulting, LLC, which she indicated previously was giving "consulting, licensing, and management services for real estate projects." It's one of many companies connected to the Trump family under the tame TTT or TTTT.
"Like her brothers Donald Jr. and Eric, Ms. Trump was a longtime employee of the Trump Organization and an executive officer for more than 200 Trump companies that licensed or managed hotel and resort properties," the report said. "The tax records show that the three siblings had each drawn a salary from their father's company — roughly $480,000 a year, jumping to about $2 million after Mr. Trump became president — though Ms. Trump no longer receives a salary. What's more, Mr. Trump has said the children were intimately involved in negotiating and managing his projects. When asked in a 2011 lawsuit deposition whom he relied on to handle important details of his licensing deals, he named only Ivanka, Donald Jr. and Eric."
While Trump's taxes don't show the funds that he gave to Ivanka specifically, she reported payments from "consulting" totaling $747,622. It matches the number exactly that Trump wrote off as "consulting," which he wrote off of his taxes.
Trump's income from "The Apprentice" is running out; he sold most of his stock; his businesses are losing money; and he has $400 million in loans coming due
The New York Times revealed that among the reports they have about President Donald Trump's taxes is that he's been making huge amounts of money off of licensing for "The Apprentice," which he uses to support his fledging resorts and clubs. But as that money slows, about $421 million in bills are coming due.
"Together with related financial documents and legal filings, the records offer the most detailed look yet inside the president's business empire," said the Times. "They reveal the hollowness, but also the wizardry, behind the self-made-billionaire image — honed through his star turn on 'The Apprentice' — that helped propel him to the White House and that still undergirds the loyalty of many in his base."
The report went on to calculate that Trump made more money playing a businessman on television than he did being a businessman in real life if his tax records are any indication.
"'The Apprentice,' along with the licensing and endorsement deals that flowed from his expanding celebrity, brought Mr. Trump a total of $427.4 million, The Times's analysis of the records found," the report continued. "He invested much of that in a collection of businesses, mostly golf courses, that in the years since have steadily devoured cash — much as the money he secretly received from his father financed a spree of quixotic overspending that led to his collapse in the early 1990s."
The documents reveal that his largest golf resort, Trump National Doral, had $162.3 million in losses since he purchased it for $150 million in 2012. His tax records show that $213 million was put into Doral and about $125 million in mortgage bills are about to be due in the next three years. It adds to $63.6 million in losses for his three European properties. He also reported $315.6 million in losses from his golf courses and a $55.5 million-loss in 2018 for his Trump International Hotel down the White House street.
All of the loses from the sorts have been paid for, the Times said, by "marking his cash infusions as a loan with an ever-increasing balance, his tax records show. In 2016, he gave up on getting paid back and turned the loan into a cash contribution."
"Rather than making him wealthier, the tax records reveal as never before, each new acquisition only fed the downward draft on his bottom line," the report revealed.
Trump is responsible for the loans and other debts totaling a whopping $421 million. Those bills come due in the next four years.
"Should he win re-election, his lenders could be placed in the unprecedented position of weighing whether to foreclose on a sitting president," said the Times.
Trump has called all of it "fake news."
Read the full piece from the New York Times.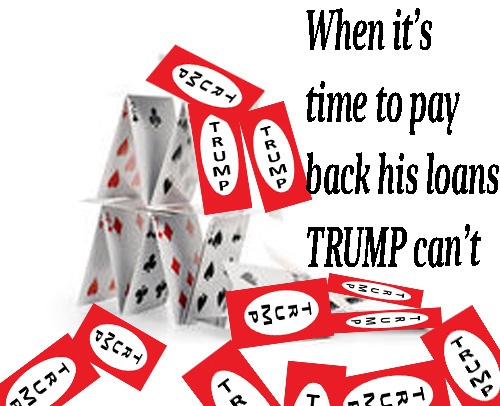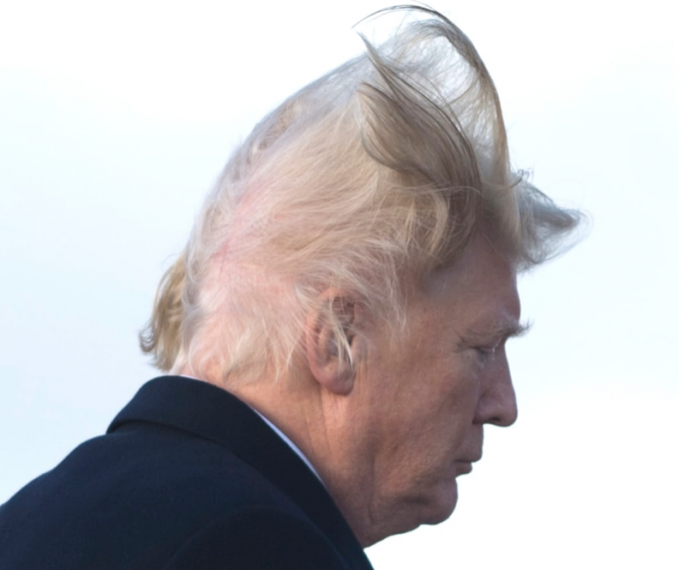 Trump has paid more in hush money to porn stars than he paid in taxes.
UPDATE:  9/27/2020  11:55 PM EDST
Pulitzer Prize-winning investigative reporter David Cay Johnston has literally written the book on President Donald Trump and his finances. Trump's supporters have already gone after the report saying that it vindicated the president because there was no mention of Michael Cohen or Russia anywhere in the New York Times bombshell report.
As Cay Johnston explained, those things wouldn't be on Trump's personal taxes; it would fall under the Trump Organization.
"This is a stunningly detailed report that goes into essentially everything that you would know from the tax returns that isn't what you'd know about his business. For example, nothing in here about Russia and whether the money he's gotten we know he's gotten from Russia, because that would be business records, not tax records," he explained.
UPDATE II:  9/28/2020  1:15 AM EDST
Trump campaign is laundering loads of dirty Russian money!!!
https://www.forbes.com/sites/andrewsolender/2020/07/28/non-partisan-watchdog-accuses-trump-campaign-of-laundering-170-million/#262f0cfb6128

TOPLINE The Campaign Legal Center, a nonpartisan campaign finance watchdog group, filed a complaint with the Federal Elections Commission Tuesday accusing the Trump campaign of "laundering" $170 million through numerous companies, some with connections to former Trump campaign manager Brad Parscale.
And then today  Brad Parscale hears the NYTimes has tax records and he threatens suicide before being arrested to prevent self harm.